Viet Fajitas
What are Viet Fajitas? Obviously not the technical term for this dish but this is the term my husband coined for this dish. The Vietnamese name for this dish is:

I remember when we were dating and going over to my Mom's house for dinner. I was trying to describe this dish to him and I probably said something like it's stir fried beef that you roll it up in rice paper along with rice noodles, lettuce, other veggies and herbs. The beef is sliced thinly across the grain and marinated in a oyster-sesame mixture. After leaving my Mom's house, he said, you should have said they are like fajitas and I would have gotten really excited.
Besides pho (Vietnamese beef noodle soup), this dish must just be one my favorite Vietnamese dishes. I have many memories of crowded dinner tables…the table full of condiments and a butane powered camping stove. My Mom would stir-fry the beef right there and everyone around the table passed around ingredients. We rolled up our viet fajitas up and ate them as we rolled them at the table. BTW, my Mom even calls them Viet Fajitas now.
What made it even more like fajitas, my husband added his own twist to it suggesting we add peppers and onions to the stir fry. He really likes the taste of the peppers and onions but I remain true to eating them without them. We often will stir fry shrimp as well. I have to be honest, I do not usually measure when making this dish but I did the last time I made this dish as a guide for you. It's super yummy and I hope you try them sometime!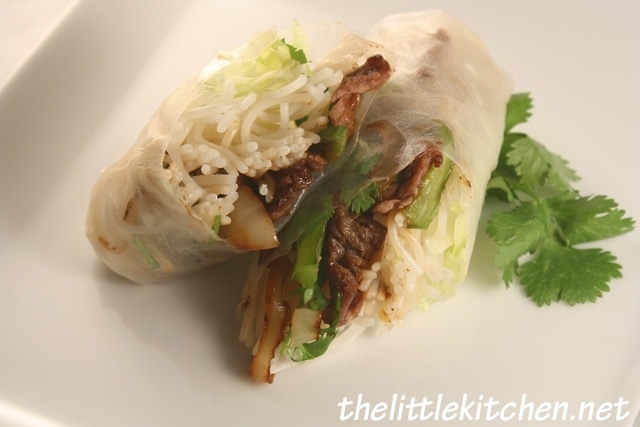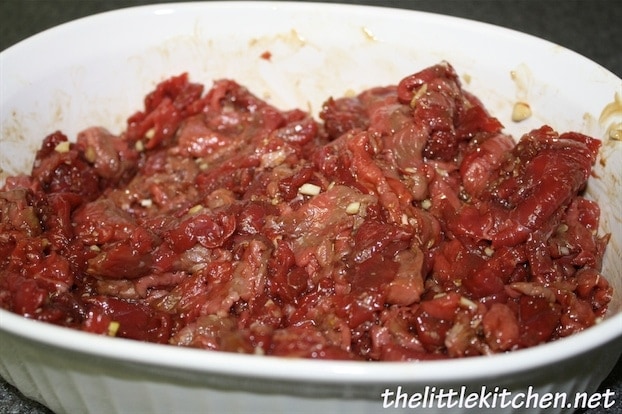 If you make any of recipes and decide to share them on instagram or twitter be sure to tag me @thelittlekitchn and use the hashtag #thelittlekitchenrecipes! I love seeing your posts and photos!
Viet Fajitas
Ingredients:
Approx 2 lbs of beef (just like my Mom, I like London Broil), sliced thinly across the grain, cut into 1" x 2-3" pieces

1 1/2 tsp chopped lemongrass

3 garlic cloves, chopped

4 Tbsp oyster sauce (I prefer Lee Kum Kee brand)

2 Tbsp sesame oil

1/2 - 1 Tbsp unsalted butter for each batch of cooking

1 medium onion (cut in half and thinly sliced)

1 green bell pepper (cut into thin strips)

1 package of rice paper

1 package of rice noodles

lettuce, cilantro, sliced jalapenos (optional)
Directions:


Slice beef and marinate in lemongrass, garlic, oyster sauce and sesame oil. Sometimes I will marinate for an hour and when I'm pinched for time, only 15 minutes.


Boil rice noodles. Drain in colander and rinse in cold water. Allow to sit in colander and dry.


Heat 9 inch frying pan at medium-high heat with 1/2 to 1 Tbsp of butter. Cook beef (& shrimp) along with a little bit of peppers and onions in batches.


Arrange on wetted rice paper with lettuce, rice noodles and your choice of cooked peppers, onions, cilantro and jalapenos. Roll up and enjoy!


Tips:


Be sure to not overfill the skillet, cook the beef in batches. If you overfill, the meat will not brown quickly and you will have overcooked your beef and make it tougher.


Always, watch the noodles very carefully, they cook very fast in some cases in just 3 minutes! Drain in a colander and drain. You definitely want to drain and rinse with cold water because you do not want them to stick together. Allow them to cool and I like to warm them up in the microwave for about 30-45 seconds before adding them to the rice paper.


If you want to do shrimp as well, marinate in a separate container from the beef. I often stir fry it along with the beef unless someone does not eat beef or is allergic to shellfish.


We love that you love to share our recipes with others. If you have a blog or website and want to repost the recipe, we just ask that you reword the instructions (easy peasy) and link back to give us credit and to use your own images at the same time. Please ask us permission before republishing our recipes and images. And here's a great article on how to properly attribute a recipe.
This was my contribution to Delicious Vietnam. Delicious Vietnam is a monthly blogging event celebrating Vietnamese cuisine created by Anh of A Food Lovers Journey and Ravenous Couple! Love what both of these bloggers created and hope you enjoyed this post! Visit Ravenous Couple to see the other posts from this month's Delicious Vietnam.