Totchos with a fried egg on top!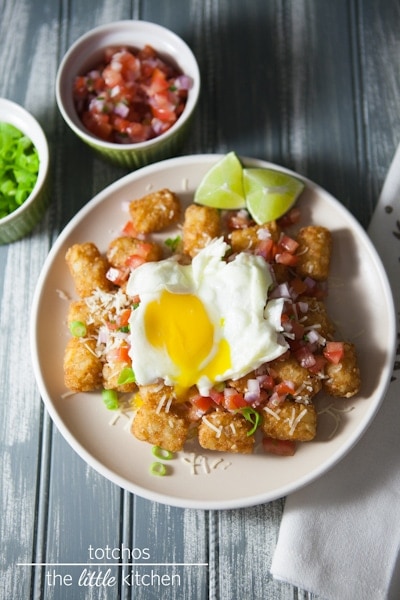 Snack, appetizer or meal? I'm not sure but I first had 'totchos' in Portland earlier this year and believe me they were memorable. Instead of tortilla chips, the tater tots serve as nacho chips…and usually topped with nacho cheese and other toppings, they are amazing.
I knew I had to make them at home and try them out…and right after my trip last week to Idaho (trip sponsored by the Idaho Potato Commission) to visit potato farms and potato processing facilities…what better recipe to post than totchos? I'm definitely sharing more on what I learned on the trip in future posts…it was an amazing time!
First, make the pico de gallo. This is my no fuss way to make pico and we love it on top of tacos and with fajitas.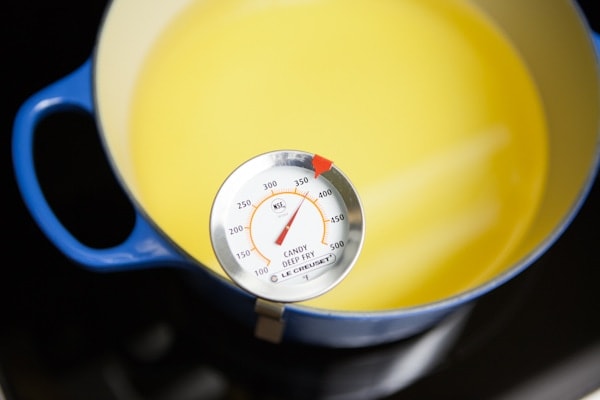 Heat your oil according to directions on your bag of frozen tater tots. I think it's really important to have a thermometer when deep frying.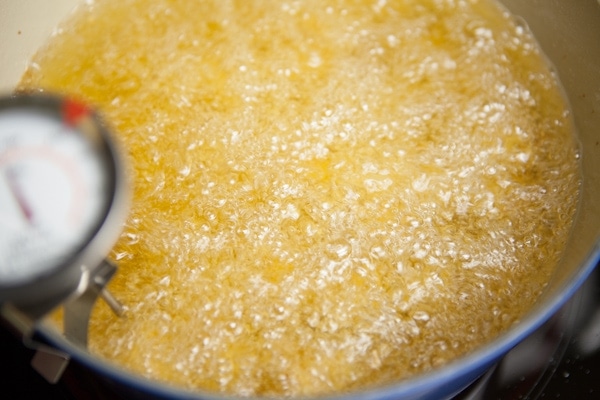 Fry those puppies (or tots) up and be patient. I used my slotted spoon to keep them moving around and from sticking to each other while frying.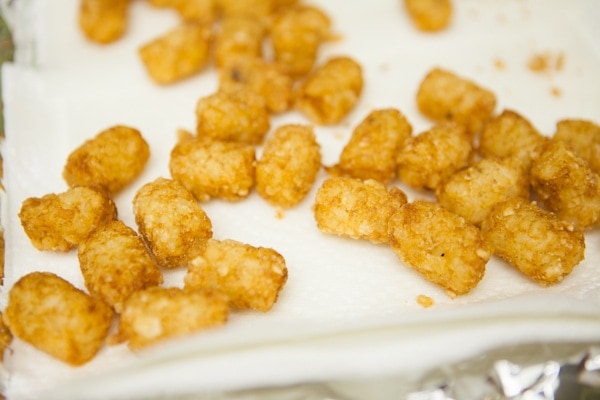 Using a slotted spoon, add the tater tots to a baking sheet that's lined with foiled and topped with paper towels – to soak up the oil.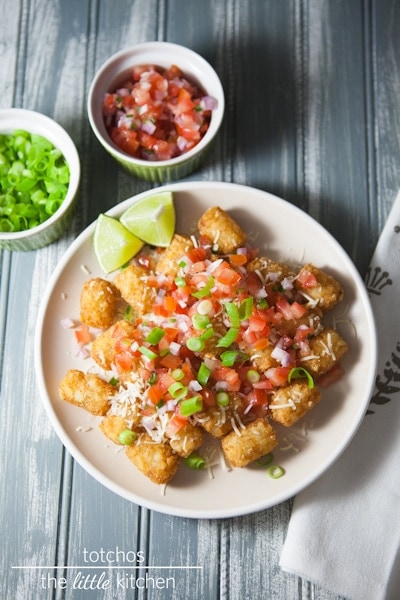 And then eat them! Soooooo I have to give credit where credit is due, while I was frying the tater tots, Curtis looked at me and said why don't you put a fried egg on top? Whatttttttt? was my reaction. He thought I was mad from my reaction but I just answered with "pure genius". You're a genius, honey!
The funny thing? He doesn't like runny eggs but he knows how obsessed I am with putting eggs on ramen noodles and tons of other things. I wish I thought of this…
So there you have it…totchos with a fried egg on top (Curtis' idea). The eggs make it heavenly…this is comfort food!!!
If you make any of recipes and decide to share them on instagram or twitter be sure to tag me @thelittlekitchn and use the hashtag #thelittlekitchenrecipes! I love seeing your posts and photos!
Totchos Recipe
Yield: 2 (for a meal) or 4 (for an appetizer)
Prep Time: 25 minutes
Cook Time: 20 minutes
Total Time: 45 minutes
Popular in Pacific Northwest towns like Portland, Oregon, they are traditionally topped with nacho cheese. I loved creating this twist with pico de gallo, shredded cheddar cheese and a fried egg on top!
Ingredients:
Pico de Gallo
1/2 of a large red onion, diced small

3-4 medium tomatoes, cored and seeded, diced small

1 jalapeno pepper, seeded & cored, diced small (reserve the seeds)

1 1/2 limes, juiced

salt
Tater Tots
1 pound frozen tater tots

vegetable oil for cooking

salt and pepper
Other toppings
sharp white cheddar, grated

3 green onions, sliced

2 eggs, fried

sour cream (optional)

guacamole (optional)
Directions:
Pico de Gallo
Combine the diced onions, tomatoes, jalapenos (include seeds if you'd like) and lime juice into a medium-sized bowl. Add salt to taste. Refrigerate while preparing the tater tots and eggs.
Prepare a baking sheet lined with foil and covered in paper towels. Fry the tater tots according to instructions on the bag. The brand I used instructed to heat the vegetable oil to 375 degrees. Allow the tater tots to slightly cool and the oil to drain on the baking sheet. Top the tater tots with salt and pepper.
In a non-stick skillet, melt butter and fry two eggs sunny side up.
On two plates, add tater tots and top with cheddar cheese. Optional: melt cheese on top the tater tops in the oven on the baking sheet or in the microwave on microwave-safe plates. Top with pico de gallo and green onions and then the fried eggs. Serve with lime wedges and sour cream or guacamole. Warning: You'll need a fork for this dish!
We love that you love to share our recipes with others. If you have a blog or website and want to repost the recipe, we just ask that you reword the instructions (easy peasy) and link back to give us credit and to use your own images at the same time. Please ask us permission before republishing our recipes and images. And here's a great article on how to properly attribute a recipe.
Sign up today to receive exclusive content and news from The Little Kitchen:
76 Responses to "Totchos with a fried egg on top!"
Pingback: The Weekend Agenda | Cool Material

Pingback: Sunday Roundup 10/7/12 - Savory Simple
Leave a Comment