Vanilla Extract Giveaway Winners and other news
I'd like to congratulate beanienva and HapEGrlLovnLife, winners of Sonoma Syrup Co's vanilla bean extract! I know you'll enjoy them!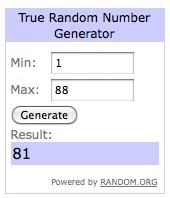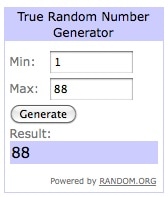 I can't believe we had 88 qualifying entries! That's a record for the little kitchen.
A couple of changes around here, I have deactivated the Echo comments because sometimes I really want to email a commenter back but couldn't unless the commenter typed their email address into the comment field.  That also created confusion for giveaways (some entrants didn't leave their email address or twitter handle so there was no way to contact them). So no more Echo comments and if you have a gravatar account, be sure to use that email address so your icon shows up.
I have been slacking on blogging here because there has been a lot of things going on…I posted the news on my other blog. If you're interested in things nerdy, pets and volunteering and just whatever, feel free to subscribe to my whateverjulie blog, which I just started in May. I'm thrilled to announce that I was chosen as an Energizer Keep Going® Blogger. What does that mean? I will be participating in the Susan G. Komen Tampa Bay 3-Day for the Cure (it's a 3-Day walk – 60 miles total) in October and my participation will be sponsored by Energizer. I will be blogging, facebooking and tweeting about my training and also during the event. So if you're interested in keeping up with all of that as well as product reviews and possible giveways, please hop on over to whateverjulie.com. As you may know from my past post, I am passionate about supporting the mission to end breast cancer forever and I hope you'll join me on this journey.
With that, I hope to have a couple of posts up this week including that giveaway for a CSN Stores gift certificate that I promised before.
Sign up today to receive exclusive content and news from The Little Kitchen:
3 Responses to "Vanilla Extract Giveaway Winners and other news"
Leave a Comment